It is National Flash Fiction Day – I am not performing or anything unlike last year but I am going to see my friend Dan Holloway perform in Bristol 🙂 Lots of ebooks and things are being given away so I thought I would join in with 24 hours of The Doomsday Collection being downloadable for free – just click on the book cover below. It is a series of flash fictions, short stories, novelettes and poetry. There is a mix of styles in there some of which are quiet dark just to warn you!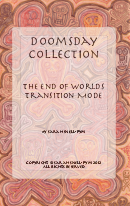 Posted: Saturday, June 22nd, 2013 @ 11:03 am
Categories: Events, Flash Fiction, novellets, Poetry, Short Stories.
Subscribe to the comments feed if you like. You can leave a response, or trackback from your own site.